Fun Preschool Dance – from 2 to 5 years!
Weekday, after-school and Saturday classes
Toddler dance, preschool dance, preschool ballet and jazz classes available.
Preschoolers can join class from 2 1/2 years old and stay with us right through to teenage levels, if they wish!
Pick a class and experience the magic of dance!
Age
Class
2 1/2 to 4 years
Time For Dancing: A fun introduction to ballet and dance basics, with changing themes, props and upbeat music. Parents can observe this class each week (and join in if necessary!) See video below.
3 to 4 years
Little Ballet: An introduction to the graceful world of

ballet

. Students learn early

ballet

skills and steps, and have fun expressing themselves through creative movement. We follow the beautiful Angelina Ballerina Academy® curriculum and provide a nurturing, developmentally appropriate environment for our budding dancers.Parents do not sit inside the studio but are invited to view a class each term as well as the annual certificate presentation class. See video below.
3 to 5 years
Little Stars: A musical warm up begins a fun class of jazz dance. We will build up strength and skills for dancing and have fun doing basic gym like forward and backward rolls on our tumbling and floor mat. We will also practise movement skills like hopping, skipping, balancing and jumping, and combine everything into fun dance routines!
4 years +
Ballet Preps is a special class for 4 year olds. It includes both introductory Ballet steps and imaginative story-based free movement. Students at this level take part in an informal certificate presentation for their pare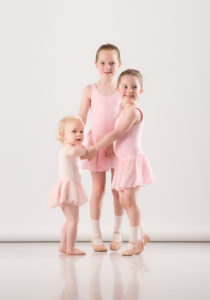 Our main focus is on developing a love & enjoyment of dance. This is a wonderful age to explore their own creativity and imaginations. In our classes, children improve co-ordination, musicality, confidence, motor skills, concentration, and following instructions.

ENROL NOW using our easy online enrolment form